How do I view my SASSIE shops in MegaLog?
To view your SASSIE shops in MegaLog, click the View button on the MegaLog preview in Command Central or click on Tools -> MegaLog.
MegaLog has two views, List View (the default) and Calendar View. 

List View
In List View, you can see all your SASSIE shops displayed as a list: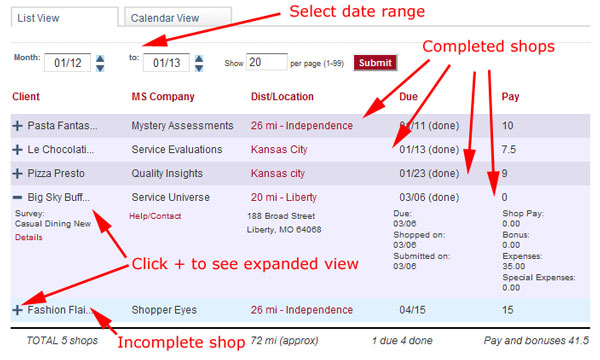 List View has several features:
Sortable columns: click on any column header to sort the list of shops
Summary view and details: see basic shop info at a glance, or click + to see full shop details.
Click to view guidelines, submit survey, see a location map or contact scheduler
Calendar View
In Calendar View, you can see your SASSIE shops for a given month:
In Calendar View, you can click on a shop to view its details, with links that take you to shop details, guidelines, scheduler contact, survey and location map.