I didn't get the verification email
The verification email is sent out immediately when you add a new email address to your account.  Under normal circumstances, you should receive it almost immediately.  Once we send an email, we have no control over whether it is delivered.  Even if you're generally able to receive email, your internet service provider (ISP) may be blocking mail from certain servers or mistakenly filtering our emails as spam, or there may be a problem with your settings.  
Check your junk/spam filters and other non-inbox folders.  Sometimes spam filters incorrectly decide that our verification emails are spam, or that they should be filed somewhere other than your inbox. Check your Junk folder and other folders to make sure that's not the case, and make any necessary corrections in your email filters.

In addition, if you are using an 

email filtering service

 such as SpamArrest, that blocks all emails coming from an automated source (like our verification emails), you will be unable to receive our verification emails unless you whitelist jobslinger.com and jobslingerplus.com.

Contact your internet service provider and ask them to whitelist jobslinger.com and jobslingerplus.com.  If your internet service provider is blocking email from our servers, the only solution is to get them to stop doing that -- we can't force them to accept the email.
Once you have resolved any issues, request a new verification email.

To do this, log onto your account and go to the Email Manager (

My Account -> Email Manage

r). You should see the address in red -- if it is in black, the address has already been verified, and you're all set. If the address is red, click it to resend the verification email.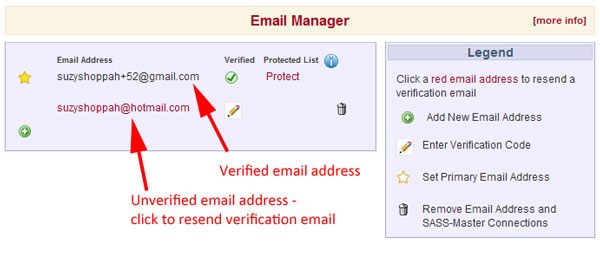 If you've tried the solutions above and are still having difficulties, there's a workaround that may be able to help you. If you use Facebook and have a verified Facebook account with the same email address as your JobSlinger account, you can verify your JobSlinger email by logging out and clicking the Login with Facebook button on the front page.


You will be prompted for your Facebook login if you are not already logged on. This will log you onto JobSlinger (faster than typing in your login information!), AND it will verify your email address!